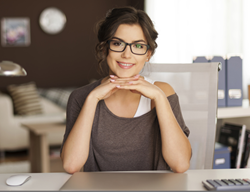 "We are proud to announce that the WAHspace community is now 10,000 plus members and growing every day"

Boca Raton, FL (PRWEB)
June 30, 2017
WAHspace, the world's largest online work at home community, today announced that it has reached the milestone of more than 10,000 community members. WAHspace members are people all across the United States and Canada who are actively looking for work at home roles or have specific interest in the work at home industry. Many WAHspace community members have earned a WAH Certification badge after successful completion of an online module that assesses basic skills and personality fit for working at home. Members can also opt into completing a background check through WAHspace.
"We are proud to announce that the WAHspace community is now 10,000 plus members and growing every day," said WAHspace CEO Sarah Lucas. "People all around the country are realizing the benefit of joining WAHspace and earning their WAH Certification, or becoming a premier member to access our free technical support."
In addition to over 10,000 community members, WAHspace has eleven companies representing nearly 50,000 workers that have successfully been designated with the WAH Certified company credential. The WAH Certified company credential is available to qualified companies that offer work at home opportunities. Through this program, companies are able to join the WAHspace online community and connect with the pre-screened WAHspace work at home community talent pool. Qualified companies must be in business for a minimum of two years, pay a living wage to workers, and have a generally favorable reputation in various online review forums. WAH Certified companies are able to post an unlimited number of at-home job opportunities to the site.
"The WAH Certified credential is well on its way to becoming an industry standard for companies that offer work at home opportunities," said WAHspace CEO, Sarah Lucas. "As the growth in at-home work continues, we are seeing more and more companies looking to differentiate themselves in order to attract and retain both clients and talented professionals."
In the United States, the market for work at home opportunities, while already solidly established, is growing quickly. In the United States, almost 4 million people work from home at least half the time.
For more information about WAHspace or to find out how to become a WAH Certified Company, visit http://www.WAHspace.com.
About WAHspace:
WAHspace is the world's largest online work at home platform connecting and credentialing employers with job seekers.  People join WAHspace as a member to connect with other people that work at home, gain valuable skills, and find…