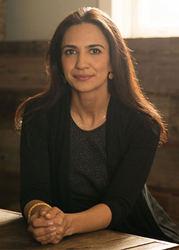 "At a time of division, fragmentation, and attacks on the very communities we seek to serve, USF's School of Education stands strong in its vision of promoting equity, unity and cohesion. We choose to align ourselves with the forces of integration."

SAN FRANCISCO (PRWEB)
June 26, 2017
The University of San Francisco (USF) has appointed Shabnam Koirala-Azad as dean of the university's School of Education. Dr. Koirala-Azad has served as interim dean since January 2017 and has been a leading academic at USF's School of Education since 2005. She is an expert on international and multicultural education, human rights and education reform and the first woman to lead the school since its founding in 1947.
As dean, Koirala-Azad will oversee over 20 credential, master's and doctoral programs that serve over 1,000 aspiring and accomplished teachers, counselors and school leaders a year at USF's main campus in San Francisco, as well as branch campuses across the Bay Area. While many schools of education have struggled over the last decade, USF's enrollment has increased or remained steady year over year.
"Our work is especially significant in this moment," Koirala-Azad said. "At a time of division, fragmentation, and attacks on the very communities we seek to serve, USF's School of Education stands strong in its vision of promoting equity, unity and cohesion. We choose to align ourselves with the forces of integration. Our work is cut out for us, and our legacy and proven record of enhancing educational justice provides us with a solid footing from which to build further."
Koirala-Azad will also oversee initiatives at the McGrath Institute for Jesuit Catholic Education, which focuses on training for Catholic school educators and leaders. The McGrath Institute was named for donors Bob and Joan McGrath after they made a transformational gift of $6 million in April 2017, the largest gift in the School of Education's history.
"Shabnam is an inspiration to many of us," said Donald E. Heller, provost and vice president of academic affairs at USF. "She is brilliant at building relevant, sustainable programs that help today's school leaders and educators excel, and like many career educators, she has an inexorable drive to make the world a better place. Her commitment to equity and justice is an ideal reflection of the teaching profession and USF's School of Education mission. She can ground the school fiscally, and help light the way for a new generation of educators."
Koirala-Azad has risen through the ranks at USF, beginning her career as assistant professor of international and multicultural education in 2005 and becoming department chair in 2011….