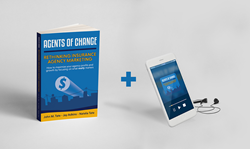 Insurance agency owners that believe in the proven strategies we suggest (…) end up experiencing the most rewarding kind of profitability – the kind that directly impacts the lives of their entire team (…) and a large number of families…

MIAMI, FL (PRWEB)
July 22, 2017
Pioneers in Worthy Cause Marketing campaigns within the Insurance industry, Miami, FL based firm, Agency Marketing Machine (AMM), proves through its co-founders' recently published how-to book, that insurance agency growth and the betterment of communities go hand in hand. Agents of Change, released in print last February and audiobook in June, is garnering an increasing number of enthusiastic reviews across the industry. The unique strategies revealed in the book are provided to the reader through the relatable story of Jim Wakefield, a fictional insurance agency owner on his non-fictional journey through the challenges of keeping his business afloat.
Agents of Change takes readers through troubles that commonly plague insurance agencies. The tale of Wakefield Insurance includes a number of those struggles, such as: sustaining high levels of retention; lowering the cost of acquiring new customers; successfully utilizing the power of social media; and developing a meaningful online presence. For each hurdle, the audience – through Jim's research and determination – is presented with solutions and actionable steps.
"Insurance agency owners that believe in the proven strategies we suggest, and then implement them, end up experiencing the most rewarding kind of profitability – the kind that directly impacts the lives of their entire team, other local businesses, and a large number of families within the community," said John Tate, co-author and President of AMM.
The book is rapidly becoming a must read roadmap for agents searching for long-term growth, and quickly reached best-seller status on Amazon.com within its category. To celebrate that success, for a limited time the paperback version is being offered for free – shoppers only pay for the cost of shipping. Copies can be claimed here while supplies last: http://agentofchangebook.com.

As a valuable bonus within that offer, the audiobook is also being included at no extra charge for now.
"With Agents of Change, our intention was to provide an easy to read and easy to understand guide, one that would compel agency owners everywhere to get up and push their businesses to new heights. At AMM, we can only work with a limited number of agencies, so now our highly successful tactics are available to all!" exclaimed Natalia Tate, co-author and Vice President of AMM. Free resources are offered throughout the book, to facilitate the understanding of points made, and to help readers take…