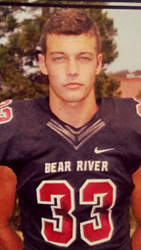 Every golfer will play with one of these sports stars.

SACRAMENTO, Calif. (PRWEB)
June 10, 2017
Entries still are available as more sports stars signed on to participate in the June 17 Game-Changer Celebrity Golf Classic in Rocklin, Calif., which is raising funds for research on traumatic brain injuries in high school football and other sports.
The Game-Changer Celebrity Golf Classic is headlined by former NFL greats and other sports celebrities, including three NFL Hall-of-Famers and 20 former Oakland Raiders, including Super Bowl MVP Jim Plunkett and living legend Charles Woodson.
"The fantastic response from members of the NFL is heart-warming knowing they are supportive of our cause," said Jeffrey R. Jenkins, M.D., chief medical executive of Sutter Auburn Faith Hospital, who is helping to promote the tournament. "Because of this spirit of cooperation, we will be able to make a huge difference in the knowledge about detection, prevention and treatment of traumatic brain injuries among high school athletes."
The tournament is hosted by the family of 17-year-old Toran Maronic of Bear River High School in Grass Valley, who was a college prospect in football and lacrosse. In June 2016, the wide receiver was brain-injured during a 7-on-7 scrimmage. Specialists believed Toran would never come out of his coma or fully recover, but he did and just received clearance Thursday to pursue playing lacrosse and basketball again. He became the first patient enrolled in groundbreaking scientific research on "second-impact syndrome" among high school football players.
Proceeds of the tournament will go to the research project, which is being conducted by Robert C. Cantu, M.D., co-founder of the Concussion Legacy Foundation in Boston. The research is sponsored by Practice Like Pros, which encourages high school football programs to hold practices like the NFL does. According to the group, just 2½ percent of NFL injuries happen during practices, while 58 percent of high school injuries occur at practice.
Oakland Raiders Hall of Famer Willie Brown and other greats like Ted Kwalick, Daryle Lamonica, Phil Villapiano and Rod Martin are among the 40 sports celebrities participating in the golf tournament. Every player who signs up will be in a five-some captained by one of the celebrities. Entry and sponsorship fees are tax-deductible.
"Every fivesome will be captained by a celebrity, so every golfer will play with one of these sports stars," said Tournament Director Dave Maronic. "Entry and sponsorship fees are 100 percent tax-deductible because expenses are covered by our title sponsor, Sutter Health. We have no overhead, and…