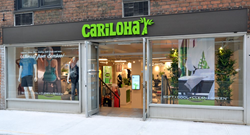 Cariloha bamboo fabrics offer unique benefits. They're 3 degrees cooler than cotton and naturally wick moisture away from the skin.

New York, New York (PRWEB)
July 07, 2017
The first Cariloha store in New York is opening in Lower Manhattan, New York City at 637 Broadway by welcoming guests and customers to a day-long grand opening celebration on Wednesday, July 12.
As part of making its grand entrance into the SoHo and Greenwich Village communities, visitors to the 1,000-square-foot Cariloha store will receive a complimentary bamboo lei just for stopping by, along with entry into a monthly raffle for a no-cost set of Cariloha bamboo bed sheets.
Cariloha store visitors will also enjoy feeling the luxuriously soft difference of Cariloha's entire line of eco-friendly bamboo products, including mattress, pillows, sheets and duvets, along with men's and women's shirts, shorts, socks, underwear, fitness wear and more – all made from earth-conscious bamboo fabrics.
The name 'Cariloha' comes from a combination of 'Cari' for Caribbean and 'loha' for Aloha from Hawaii: the Cariloha bamboo concept was inspired by the breezy, relaxed lifestyle of the islands. Cariloha is the only multi-store retailer in the world to provide an entire store experience that's completely merchandised with products made from eco-friendly bamboo fabrics. Bamboo is one of the most sustainable, renewable resources on the planet and produces more oxygen than a comparable number of trees.
Local Cariloha New York City store owner, Michael Ballos, first experienced the softness of Cariloha bamboo bedding and clothing while working as a Port Lecturer for Onboard Media, where he promoted cruise-port merchants, including several Cariloha stores, in various cruise ship destinations throughout the Caribbean, Alaska, Mexico and Hawaii.
"Opening a Cariloha store has always been a dream of mine for many years throughout my relative careers in the wholesale and retail industry, as well as my experience in the visual merchandising and professional singing arenas," said Ballos. "Plus, we're opening in New York City – everyone wants to be here!"
Cariloha bamboo fabrics offer unique benefits. They're 3 degrees cooler than cotton and wick moisture away from the skin. They also repel odors and allergens naturally without any harmful chemicals. Above all, bamboo fabrics are unbelievably soft compared to luxury fabrics like cashmere and silk but at a fraction of the price.
"We're the only store in the city and state that's 100 percent devoted to offering bamboo-based clothing, bedding and bath goods," Ballos said. "We plan on staffing our Cariloha store with local New York talent – customers and job-seekers…