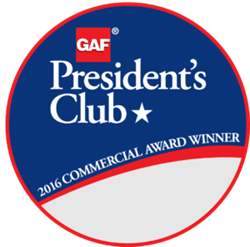 Rosemont, IL (PRWEB)
June 16, 2017
Metalcrafts, a Tecta America Company LLC, of Savannah, Georgia, has received the most prestigious contractor award GAF offers: The GAF President's Club Award. This highly coveted award recognizes Metalcrafts as one of the "elite of the elite" commercial roofing contractors in the United States.
GAF is North America's largest roofing manufacturer, and only GAF Master Select(TM) Contractors can compete for its commercial President's Club Award. To qualify for this award, a commercial roofing contractor must meet specific criteria in at least one out of three different pathways: the Performance pathway, where contractors focus on giving their property owners the best possible service, quality, and protection; the Reliability pathway, where the contractor has a long history of offering their customers the best quality and protection; and the Service pathway, where contractors consistently offer their customers the best protection available in the marketplace.
Metalcrafts has been a GAF Master Select(TM) Contractor since 2003; the company received the President's Club Award due to its excellent performance in 2016. To become a Master Select(TM) Contractor–a status that less than 1% of roofing contractors nationwide are able to achieve–a candidate must demonstrate proper licensing, maintain insurance (in states that require it), have a proven reputation, and show commitment to ongoing professional training.
Since its inception, Metalcrafts has built a reputation on quality. In 1992, the company decided to concentrate solely on the roofing segment of its business; by specializing, Metalcrafts was able to become a full-service roof contractor servicing every type of roofing system. The company is authorized to install products from GAF and numerous other major materials manufacturers.
Serving residential, commercial, and government customers, Metalcrafts installs and services roofing systems on single-family homes, condominiums, industrial plants, commercial buildings, churches, schools, facilities for local, state, and federal governments, and buildings on military bases. The company also works with and performs maintenance for paper mills, property managers, historic landmarks and properties, retail centers, hospitals, and manufacturing facilities.
In the steep-slope segment of the industry, the company installs: asphalt, metal, and synthetic slate shingles; architectural and industrial metal roofing systems; metal roofing retrofit roofing systems; clay, tile, and slate; copper and stainless steel; and standing- and flat-seam systems. For low-slope applications, Metalcrafts installs built-up, single-ply thermoplastic, EPDM, and modified bitumen roofing systems, as well as elastomeric coatings. Metalcrafts also specializes in…