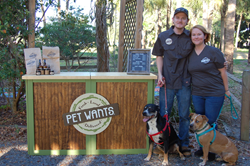 We're not some big box retailer – we are a locally owned and operated pet food company – and we will work with you to find the best food for your favorite companion.

Brevard County, FL (PRWEB)
June 14, 2017
Janel Urbanczyk Sivils and Joel Sivils are excited to announce that they're bringing fresh, high-quality pet food to Brevard County with their new business, Pet Wants Brevard County.
Pet Wants' carefully developed proprietary pet food is slow-cooked in small batches with fresh, high-quality ingredients once per month, so every kibble is guaranteed to be fresh and packed with nutrition. Pet Wants Brevard County offers free, personal delivery to all of Brevard County as well as the surrounding regions.
Janel and Joel were raised in the Brevard County area. They both have degrees in biomedical sciences from University of South Florida Tampa and have been working in water quality control. They've been married since 2011 and have two pit bull mixes – 7-year-old Toby and 2-year-old Leia – as well as a 12-year-old cat named Sox. The Sivils household is also currently home to three foster dogs and they've rescued everything from cats to chameleons. Their Pet Wants journey started with Toby's vet visits.
"We call Toby our $10,000 baby because he's been to the vet so many times. His GI issues cause him to bleed and the only thing we've found that helps is high-quality food. That's how we found Pet Wants," Janel said. "Pet Wants just felt like home – the product, the mission, the presentation and just the overall genuine care about animals – so we decided we wanted to bring Pet Wants to our community."
In addition to being made fresh monthly, Pet Wants only sources the best salmon, chicken, lamb, brown rice and other ingredients available. There's no sugar added, no fillers and no animal by-products and Pet Wants never uses corn, wheat, soy or dyes, which makes the food great for animals with allergies. Pet Wants Brevard County – which offers multiple blends of dog food and cat food – also offers healing salve, calming balm, anti-itch spray, paw wax and more.
"We work in quality assurance, so we were extremely diligent about the production of the Pet Wants food and products. I appreciate the transparency of Pet Wants. We know exactly what's in the food, where it's sourced and where it's made. I've called some of the major pet food brands for that information for Toby and I've never gotten a clear answer. When you call Pet Wants, you'll talk to a real person who has real answers about our products," Janel said.
"Our pets are our family and we don't want them to be treated like…