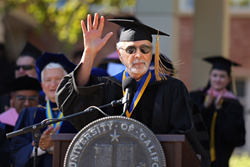 Santa Monica, CA (PRWEB)
June 17, 2017
National Medal of Arts recipient and nine-time Grammy-winner Herb Alpert was awarded the UCLA Medal, the campus's highest honor, on June 16 at the UCLA Herb Alpert School of Music's inaugural commencement ceremony.
"Herb Alpert has dedicated his life and career to the arts and to our greater good," said UCLA Chancellor Block, who presented the award. "His transformative leadership in the arts and arts education embodies and amplifies UCLA's highest ideals."
Alpert first gained fame as the trumpet player, songwriter and leader of Herb Alpert & the Tijuana Brass, bringing Latin sounds into the pop music limelight in the 1960s. He has had five No. 1 albums and 28 albums on the Billboard album chart, 14 multiplatinum albums (sales of 2 million or more units) and 15 gold albums (at least 500,000 units). In all, Alpert has sold 72 million records worldwide, and he is the only artist in history to have both a No. 1 vocal record ("This Guy's In Love With You," 1968) and a No. 1 instrumental ("Rise," 1979) on the Billboard charts.
In 2014 he received a Grammy for best pop instrumental for his album "Steppin' Out," and he continues to tour regularly with his wife, Grammy-winning singer Lani Hall, and his band. In addition to his career in music, Alpert is a noted abstract expressionist painter and sculptor, and he has exhibited his work in the U.S. and Europe.
"Lani and I treasure our involvement with UCLA," Alpert said. "We have enormous respect and admiration for the university's deep commitment to public education, to its role in fostering trail-blazing research, and to helping serve diverse communities in so many important and thoughtful ways. I am honored to receive the UCLA Medal and to be recognized for sharing the values that this world-class institution represents and celebrates."
From 1962 to 1989, as co-founder (with Jerry Moss) of A&M Records, Alpert supported the careers of legendary acts including Janet Jackson, Quincy Jones, Carole King, the Carpenters, Cat Stevens, Joe Cocker and The Police.
In the 1980s, Alpert began to devote himself to philanthropy in support of artists, arts education, and compassion and well-being. Launched in 1988 by Alpert and Hall, the Herb Alpert Foundation creates opportunities that enable people of all ages and socioeconomic levels to harness their creativity, develop their talents and lead more productive and fulfilling lives. The foundation's core philosophy — that art has the capacity to transform lives — guides its selection of grantees, from small, local grassroots efforts to those operating on a national level.
In 1994, the foundation initiated and funded the Herb Alpert Award in the Arts. The program,…