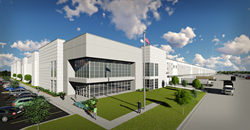 "The shift in consumer purchasing habits has forced companies to adjust their supply chains to meet demand, now providing quick turnaround direct-to-consumer and brick-and-mortar delivery," said Forrest Robinson, CEO of Robinson Weeks Partners.

(PRWEB)
June 01, 2017
Robinson Weeks Properties has broken ground on a new 1 million-square-foot speculative building, which is expandable to 1.4 million, at Gillem Logistics Center (http://www.GillemLogisticsCenter.com), a 1,168-acre state-of-the-art, regional distribution and e-commerce logistics campus. The building will be complete by Q1 2018.
The building represents the next generation of e-commerce/regional distribution centers, accommodating users' last-mile deliveries to Metro Atlanta, with convenient access to all of the city's major arteries: Downtown Atlanta (12 miles), I-285: (2.5 miles), I-75 (3.19 miles), and I-85 (9 miles). With 40-foot clear heights, cross dock loading, and abundant truck trailer storage, the building is a unique facility for companies looking to enhance their logistics networks.
This announcement comes on the heels of the success of Gillem Logistic Center's first speculative building, also tailored for large big box retailer distribution centers. Tenants of the 848,421-square-foot building include Kuehne + Nagel, a leading global provider of innovative and fully integrated supply chain solutions.
Gillem Logistics Center also provides access to major shipping and transportation hubs, including Hartsfield-Jackson Atlanta International Airport (4.5 miles), FedEx Customer Center (1.5 miles), FedEx Ground (1.5 miles), UPS Customer Center (5.2 miles), USPS (6.5 miles), CSX Hub (20 miles), and Port of Savannah (236 miles).
"The shift in consumer purchasing habits has forced companies to adjust their supply chains to meet demand, now providing quick turnaround direct-to-consumer and brick-and-mortar delivery," said Forrest Robinson, CEO of Robinson Weeks Partners. "This disruption in the marketplace leaves e-commerce and distribution centers in need of strategic access to local and national transportation, multi-year incentives, and a local industrial labor base, all of which Gillem Logistics Center offers."
Gillem Logistics Center has a competitive advantage with access to a large pool of targeted and readily available workers for distribution center employment (including transportation/warehouse, manufacturing, and wholesale trade workers). Directly adjacent to the Gillem Logistics Center site, there are multiple Census tracts with 30 percent to 40 percent of the labor force in…