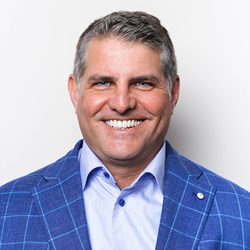 Dialexa just approaches complex problems differently and has a solid record of delivering exceptional solutions. They are innovators at heart but truly understand the complexities of delivering a product to market (both software and hardware)

Dallas, TX (PRWEB)
July 11, 2017
Technology Research, Design, & Creation Firm, Dialexa, named Chris Garrick as its first Senior Partner as the technology services firm seeks to create deeper relationships with organizations undertaking digital transformation initiatives. His role will look to bring together Dialexa's offerings to deliver against an organization's core business objectives as they go through periods of significant technological change.
"Dialexa just approaches complex problems differently and has a solid record of delivering exceptional solutions. They are innovators at heart but truly understand the complexities of delivering a product to market (both software and hardware)" commented Chris, "They are focused on design thinking, quick iterations, speed-to-market and quality. All things that large companies struggle with today. At Dialexa they have developed a process that engages the users up front, drives alignment and produces products that work and are ready for prime time."
Chris joins the Dialexa leadership team with more than 20 years of strategy, operational and consulting experience specializing in digital transformation, and has helped several companies enable their strategic capabilities through technology. He has founded two technology companies and held various leadership positions across the commercial real estate, finance, energy and technology industries.
Most recently Chris comes from spending the past five years at CBRE where he served as Global SVP of Technology and Innovation focused on leading technology transformation strategy development and new tech identification, introduction and incubation. Whilst at CBRE Chris co-founded CBRE Labs – a dedicated team focused on innovation, design thinking and building a case for change through experimentation. Prior to CBRE, he was a consultant specializing in the intersection of technology and business at Booz & Company, where he was aligned with the consumer, media and digital practice.
"Chris brings a unique perspective to Dialexa having operated on both sides of the technology services/client relationship, and this is a key role and individual that we are excited to add to the Dialexa team," stated Scott Harper (Dialexa Founder & CEO). "Ultimately Chris' role is to be the voice of our clients within Dialexa."
About Dialexa
Dialexa is The Technology Research, Design, & Creation Firm that partners with our clients to deliver custom technology solutions and strategies to differentiate your…