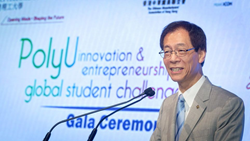 We strongly believe a global outlook, an innovative mind and an entrepreneurial spirit are what students today need to have, in order to outperform in the global race for talent.

Hong Kong (PRWEB)
June 30, 2017
The Hong Kong Polytechnic University (PolyU) organised the PolyU Innovation and Entrepreneurship Global Student Challenge (GSC) 2017 in Hong Kong this week. After two rounds of vigorous competition of presentations held at the PolyU campus, the teams from Bangladesh and mainland China clutched top prizes in the university division and the secondary school division respectively.
GSC is a biennial international business case competition launched by PolyU since 2009 as a major initiative to embrace innovation and entrepreneurship. It unleashes the entrepreneurship potential of the young generation by creating a unique platform for academic and cultural exchanges. It also offers valuable exposure to the business community and turns ground-breaking ideas into real-world solutions.
The Gold Award winner of the University Division, the team from the Institute of Business Administration, University of Dhaka, Bangladesh, proposes to address water contamination problem in Bangladesh by introducing an affordable water filter made of bio adsorbents such as corn cobs and rice husk ash which are currently considered as waste. The filter made with the upcycled material can effectively reduce the arsenic level of water and make it drinkable.
As for the Secondary School Division, the team from Shanghai American School – Puxi & American International School of Guangzhou in the mainland China snatched the Gold Award. It proposes to create an online platform, to offer middle school students the opportunity to view educational videos for learning knowledge outside their school curricula.
Run for the fifth time, the GSC this year received over 250 applications from around the world. A shortlist of 40 teams with 150 contestants from 22 countries and territories were chosen and sponsored to Hong Kong for the semi-final and final competitions held on 26 June to 29 June in Hong Kong.
PolyU President Professor Timothy W. Tong said, "We strongly believe a global outlook, an innovative mind and an entrepreneurial spirit are what students today need to have, in order to outperform in the global race for talent. PolyU has been creating opportunities and environment to help students to develop these qualities."
He said, "We will seek every opportunity to establish collaborations with like-minded leaders and institutions from local and overseas to work together. Through working together, we could turn our vision into reality, creating greater societal and economic impacts and making…