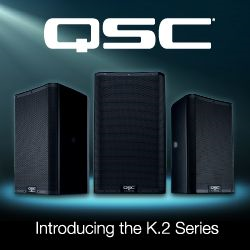 Just as the early company began to turn a profit, thieves cut a hole in the roof and stole all of the finished and working amps. This is the point in the story where most people would give up, close the door, and move on.

Oakland, New Jersey (PRWEB)
April 26, 2017
All too often, tales of a music company's humble beginnings conclude with an even humbler finish. Not so with QSC. Malcolm Doak, a music industry journalist for AmericanMusical.com, a top supplier in QSC products, has written a ground-breaking article detailing the complete history of QSC.
American Musical Supply is proud of their strong relationship with QSC; and the feeling is mutual. Perry Celia is the Senior Director of Sales for North America at QSC. In his words, "we are a like-minded manufacturer and top-tier retailer, working in tandem towards loyalty, reliability and satisfaction for the end user – which can only result in a prosperous working partnership."
A Long Journey
From their inauspicious start, QSC evolved from crafting handmade guitar amplifiers to become the foremost name in audio power amps. From there, QSC has continued to grow, and is now one of the manufacturing leaders in amplification, loudspeakers, digital signal processing (DSP), and digital mixing products for the professional audio market. QSC K Series, KW Series, and KLA Series of pro audio loudspeakers feature the latest innovations in lightweight digital power, advanced DSP signal processing, system-building connections, and convenient remote control.
Q Who?
Patrick Howe Quilter is the Q in QSC; it once stood for Quilter Sound Company, before the name was officially shortened to simply QSC. According to Quilter, his high-school interest in physics and electronics gave him a head start in designing his first circuits at college. About this same time – 1967 – the bass player in Quilter's brother's high school band (The Blown Mind) was desperately seeking an affordable bass amp. The available amps of the day seemed wildly unaffordable to this young player.
On learning that the young man's budget was around $250.00, Pat Quilter announced "I could probably make you something for that kind of money." That was and is the first QSC amp. Quilter dropped out of college in favor of real "hands-on" electronic knowledge. An article on "bridging" transistors to increase the output power caught quilter's eye, and he began working with germanium transistors that were, according to Quilter, "the size of doorknobs." From there, Pat Quilter began producing and selling hand-crafted amplifiers out of industrial park garage in Costa Mesa, California.
The Motorcycle Story
It is one of the most serendipitous stories in the musical instrument business, and one that is often repeated. But it's a great…