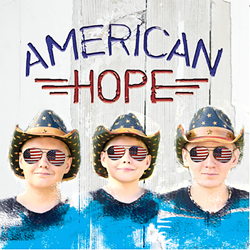 "This is my life – This is My Song"!

Atlanta, GA (PRWEB)
May 13, 2017
Shortly after the release of their first-ever music video "I'll Be There", hot new country music group American Hope is back just one month later with the music video for "My Song", the eighth track on their self-titled debut album. Like their first video, "My Song" was directed and produced by Alison Owen of Brownhouse Entertainment. The video is now available on the band's YouTube channel and website, and the song and the band's full-length studio album is featured on iTunes, Amazon, Spotify, and Reverb Nation.
Upbeat with musical dimension spanning country, rock, and even a hint of "Talking Blues", or hip-hop, "My Song" is a tale of youth and ambition. Lyrics like "Fenders, Gibsons, electric guitars turned up way too loud" and "beatin' the cans and breaking the strings" illustrate the most exhilarating aspects of creating music. "My Song" is a perfect reflection of who American Hope is as a band and as individuals – a little country, a little rock and a whole lot of fun!
According to the band, the song is a crowd favorite during live performances. Listeners young and old dance along to the music; it's energizing for every generation. The oldest brother, 15-year-old Jameson, seen jamming on the electric guitar in the video, wrote the lyrics and music for "My Song" with 13-year-old Jadyn and 12-year-old Kenyon keeping him on his toes with a super charged bass guitar and rocked up drums.
The band has performed in numerous shows throughout Georgia and Alabama and recently placed among the top acts during the Tin Roof Acoustic Showdown in Atlanta. To see American Hope live, keep an eye on the band's website and Facebook page, or visit their ReverbNation site. For information about booking, see the band's contact info below. Future scheduled performances include:


May 13 – Private Event – Jackson, MS

June 2 – Paulding County First Responders Appreciation Event – Dallas, GA

June 3 – Virginia Highlands Summerfest – Atlanta, GA

September 2 – Country on the Rim – Fort Payne, AL
Keep up with American Hope on their website, Facebook, Twitter, ReverbNation site, and YouTube channel.
Media Contact:
For media inquiries, contact Jeff Hope by phone at (404) 394-5919 or via email at jeff(at)americanhope(dot)com.
About American Hope
Jameson, Jadyn, and Kenyon Hope make up fast-rising country music group American Hope from Atlanta, GA. Over the last eight years, these three brothers have been living out their dreams all across the southeast as talented songwriters and musicians.
Drawing from their personal idols like Keith Urban, Alabama, Garth Brooks, Florida Georgia Line, and Toby Keith, their music reflects these…