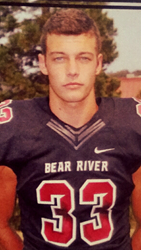 Every golfer will play with one of these sports stars.

SACRAMENTO, Calif. (PRWEB)
May 25, 2017
Hall of Famer Willie Brown, Jim Plunkett, Daryle Lamonica, Charles Woodson, Phil Villapiano, Rod Martin and several more Oakland Raiders headline a dazzling field of sports stars for the first Game Changer Celebrity Golf Classic, June 16-17 at Whitney Oaks Golf Club in Rocklin, Calif. Proceeds will fund the first-ever scientific research of catastrophic brain injury among adolescent football players.
"Every fivesome will be captained by a celebrity, so every golfer will play with one of these sports stars," said Tournament Director Dave Maronic. "Entry and sponsorship fees are 100 percent tax-deductible because expenses are covered by our title sponsor, Sutter Health. We have no overhead, and organizers are all volunteers. Every dime will go to our charities."
Maronic is the father of Toran Maronic, a standout football/lacrosse athlete at Bear River High School in Grass Valley who a suffered traumatic brain injury last June during a 7-on-7 football scrimmage. Toran has since made a miraculous recovery and is awaiting clearance to play lacrosse. His was the first case consented into the scientific research now being conducted by Dr. Robert C. Cantu of Boston and teams of researchers from the National Institutes of Health (NIH), Bethesda, Md., and Dartmouth-Hitchcock Medical Center.
"The Maronics are an amazing family," said Terry O'Neil, Founder/CEO of Practice Like Pros, a collaborator in the scientific research. "Toran has become an inspirational speaker with a dramatic story to tell. He and his mother, Cortney, visit boys around the country who have suffered serious brain injury. And his father, Dave, is determined to pay back the support shown during Toran's crisis."
The Maronics' newly formed foundation, T3 Charities, is presenting sponsor of the golf event, along with Practice Like Pros and the 21 Strong Foundation of The Woodlands in Houston.
To participate in the Game Changer Celebrity Golf Classic as a player or sponsor, go to http://www.t3charities.events/golf-event.html or call Dave Maronic at 510-693-9566 or e-mail him at toranmaronic(at)aol(dot)com. Exclusive features for participants include:

    Every entrant golfs with a sports celebrity

    $100 swag bag

    Pairings party with Charles Woodson Wines

    Free food and drinks at event

    Awards party with steak dinner

    Raffle prizes and memorabilia auction

    Autographs and pictures with NFL and other sports greats
Here are the Raiders playing in the tournament:
    Charles Woodson, DB, 4xAll-Pro, 9xPro Bowl, Super Bowl…